DG Yuengling & Son's Raging Eagle Mango Beer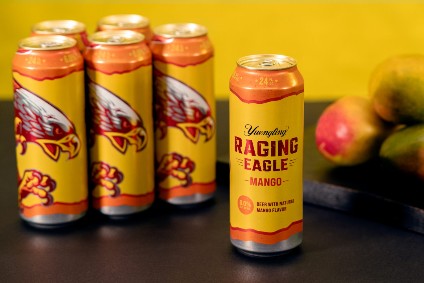 Category – Beer, flavoured, 6% abv
Available – From this month
Location – The US, available in 22 states
Price – TBC
DG Yuengling & Son, the largest independent craft brewer in the US, has launched a mango-flavoured beer in its home market.
Raging Eagle Mango Beer rolls out in the US in 24oz (68.2cl) cans. According to Yuengling, the new beer is made with mango flavourings and targets consumers "looking for bold, invigorating flavour in their next beer adventure".
"Raging Eagle Mango Beer feeds into the passion and energy of the 21-to-35 young adult who is often surrounded by friends and itching to embark on new and unique adventures," said Yuengling head brewer Jen Yuengling.
The beer will launch in the brewer's existing 22-state East Coast footprint and will not be part of a recently-agreed distribution expansion with Molson Coors Beverage Co. Yuengling announced in September that Molson Coors will handle West Coast US distribution for the brewer, and also brew Yuengling beers at Molson Coors-operated production facilities.
Super Bowl LV – The drinks ads as they're announced
---
(function(d, s, id) {
var js, fjs = d.getElementsByTagName(s)[0];
if (d.getElementById(id)) return;
js = d.createElement(s); js.id = id;
js.src = "https://connect.facebook.net/en_GB/all.js#xfbml=1";
fjs.parentNode.insertBefore(js, fjs);
}(document, 'script', 'facebook-jssdk'));


Read MoreDG Yuengling & Son's Raging Eagle Mango Beer – Product Launch | Beverage