The most used kitchen appliance in my home is my Vitamix. While searching for Vitamix sales, I stumbled upon a great deal that I couldn't resist! I had no clue how important this high-speed blender would become on my wellness journey. I use my Vitamix blender to whip up healthy green smoothies, chop veggies for soups and salads and even blend my morning healthy coffee.
If you've gone through my Blenders for Smoothies article and thinking about upgrading your blender, I say go for it! Your health is worth it. Plus, I've never met anyone who's regretted buying a Vitamix… have you? I'll be updating this article with the latest Vitamix sales, so check back often if you're looking to save money.
Table of Contents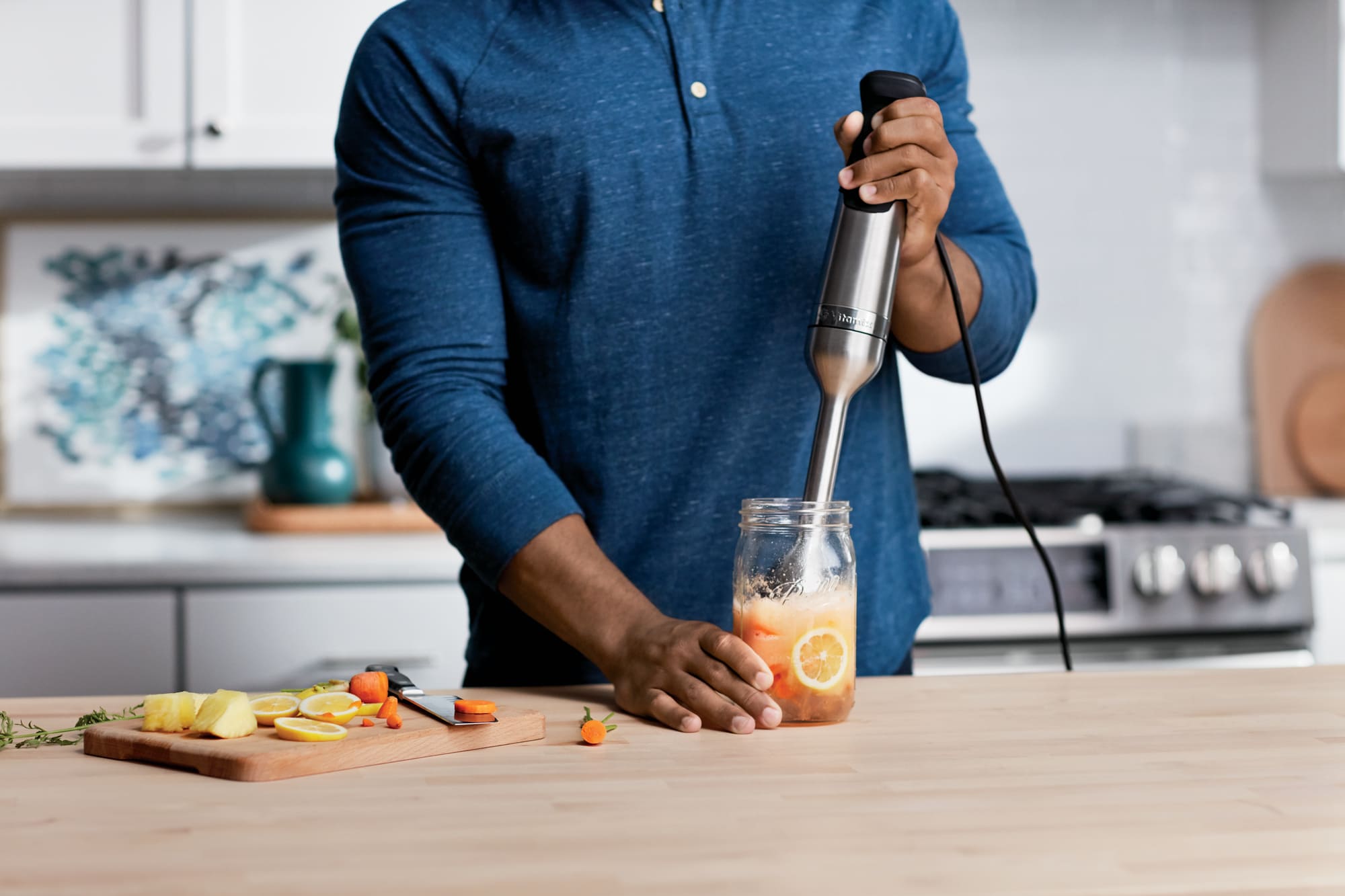 Current Vitamix Sales in US
Each month, Vitamix releases new sales that can include blenders from any of their blender lines. Here's the most up-to-date Vitamix deals and sales to help you save money on the best blender on the market:
Exclusive Deal:
Sept 2-9
Sept 1-15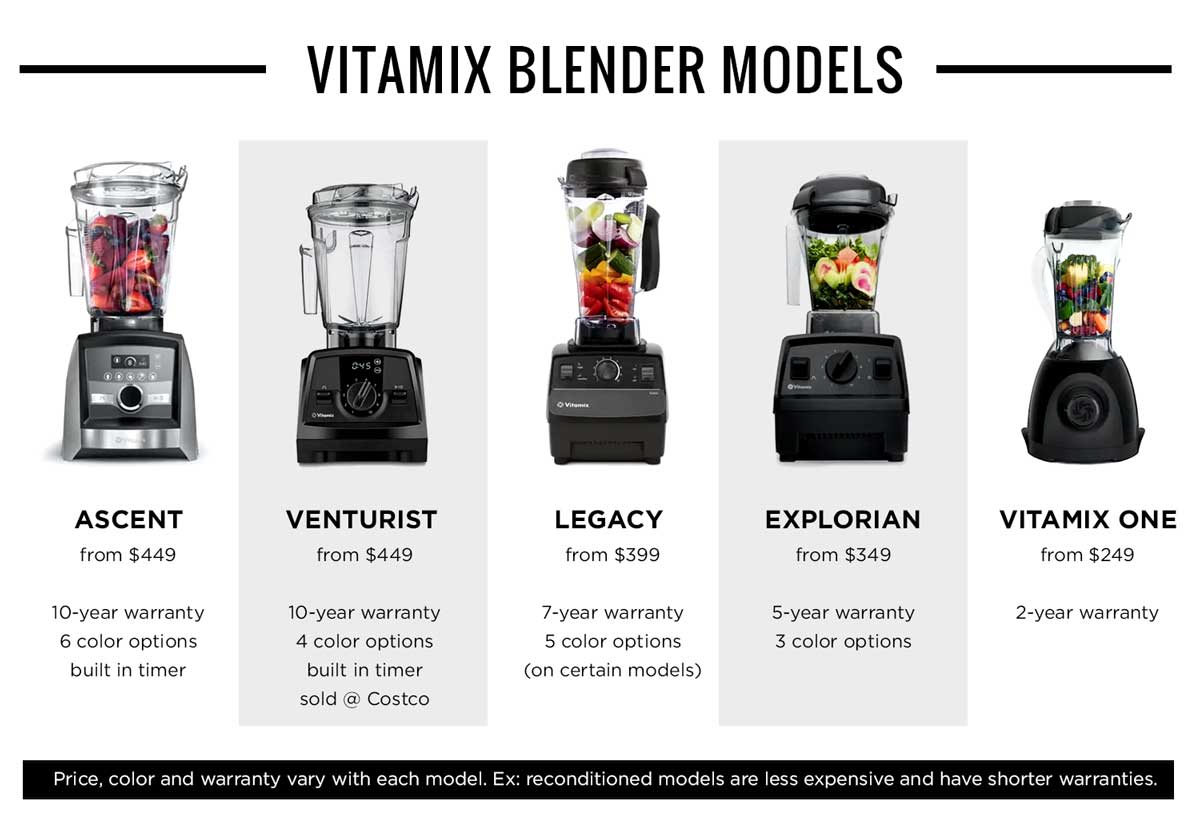 If you live in the UK or Canada you can get a great deal on a Vitamix. The sales typically differ from the US ones, yet free shipping is included so that's great!
Sept 2-9
Sept 1-15
Types of Vitamix Blenders
Deciding which type of Vitamix to purchase can be tough— there are 12+ models with a variety of features. I broke it all down below based on my own research and opinions in hopes it can help you decide which one to purchase.
Ascent Series (A2300, A2500, A3300, A3500): Top of the line blenders with 2.2 peak horsepower, compact container, have "self detect technology" to identify which container you're using, and automatically adjust blend settings accordingly. Ascent series has the largest accessory line including blending bowls (hummus, nut butters, salad dressing), single serve cups (smoothies on the go), and a food processor. Has a 10-year warranty.
Venturist (V1200): Blender series made for Costco, yet sold online through Vitamix.com as the Reconditioned Venturist. Features and accessory line are similar to the Ascent Series, and only sold as reconditioned on Vitamix.com. 2.2 peak horsepower. Has a 5-year warranty.
Legacy (Pro Series 750, 7500, 5300, and 5200): Classic Vitamix blender line with some of the highest-rated blenders. Horsepower ranges from 2.0-2.2 and container size varies depending on the blender model. Has very few accessories. Has a 7-year warranty.
Explorian (E310): Entry level blender with 2.0 horsepower, compact container, very few features and just a couple of accessories like a personal cup adaptor. Has a 5-year warranty.
Vitamix One: Starter blender for small spaces (RVing, college dorm, NYC apartment) with a lower price point. Great for making smoothies, yet can't do soups or nut butters (it will void the warranty). No accessories. Has a 2-year warranty.
Certified Reconditioned: All types of blenders that have been returned for a variety of reasons, inspected with a 17-point check list and repackaged at a fraction of the price. This is where you get the crazy good deals! Comes with a 3-5 year warranty.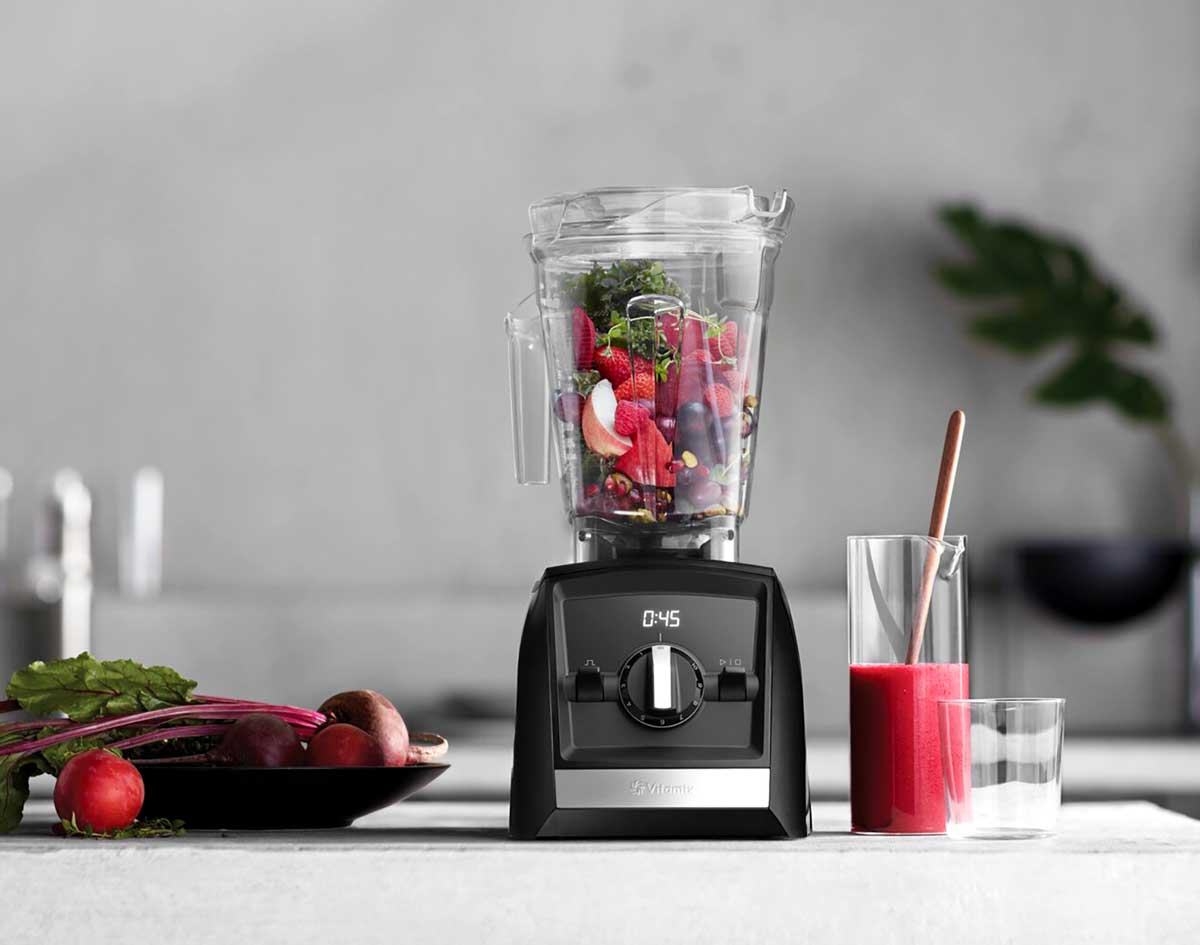 Black Friday Vitamix Deals
Vitamix opens their Black Friday sale on Thanksgiving Day and runs it all weekend. It's often called a "cyber weekend sale" and you can see last year's deals below.
Cyber Weekend Sale: One of the best times to buy a Vitamix is during their annual Cyber Weekend Sale. In 2021, their sale started Tuesday, November 25 and went through Tuesday, November 30th and they had $50 Vitamix One, $40 off Stainless Steel Container and $170 off the Certified Reconditioned Venturist V1200.
Seasonal Sales Events
Throughout the year, Vitamix has some great sales on all of their blenders. I never actually know what sales they will do until a few weeks before. Yet I saved last years Vitamix deals to give you some idea of what you can expect throughout the year. I'll be updating this article when I have concrete details and will send an email when there's a great deal. So make sure you're on my newsletter to get those Vitamix flash sale updates.
Flash Sales: While Vitamix Flash Sales are lightening fast, you can save BIG on a specific blender or accessory only while supplies last (they don't last long). We try to send emails out for these awesome sales, so make sure you're on our newsletter list!
St. Patrick's Day: The Reconditioned V1200 blender was on sale from 3/17-3/19, 2021.
Spring Sale: This was a month-long event that took place from April 14-May 14, 2021. It included $50 off all Legacy + Ascent blenders. This could be a great time to look for a new blender for you or a family member for Mother's Day, wedding showers, baby showers, birthdays and more.
Summer Sale: This was a great sale— $240 off one of my favorites blenders, the 7500. This flash sale started on July 29, 2021.
Vitamix Days: In 2021, Vitamix hosted a Vitamix Days sale Sept 22-24, 2021. They included several blenders, the Food Cycler, Immersion blender, several containers and more in this big sale.
Holiday Sale: This typically runs for about one month during November/December and includes their Black Friday, Cyber Weekend and Container Sale. During this holiday season, you might see $50-$75 off new blenders as well as specific blender sales at steeper discounts. Flash attachment + accessory sales happen throughout the month too.
Container Sale: All full-sized containers go on sale during this 2-day sale, including the Stainless Steel Container (it was $50 off!). This sale took place Dec 7-9, 2021.
Where to Buy a Vitamix
While you can buy directly from the website, you can also score deals on these wonderful appliances through a few different stores. I'm listing my favs below:
Costco sells reconditioned 7500s or 5200 Standards for a great price. I see them hit shelves a few times a year, always at a discount.
Sam's Club also sells reconditioned 7500s or 5200 Standards for a great price. You get a brand new appliance that will hold up to daily use for an affordable price.
Amazon puts different Vitamix blenders on their Daily Deals page for flash sales throughout the year. It's pretty random and won't necessarily be the exact machine you want, so check in on a regular basis if you want to snag one here.
Williams and Sonoma has the latest and greatest from Vitamix. You might be in search of a blender for your daily smoothies, yet there are attachments for a variety of kitchen tasks. Plus, if you're looking for a beautiful appliance to grace that countertop, Williams and Sonoma has limited edition colors and styles to fit.
Vitamix.com is probably the best place to get your blender… and all the accessories to go with it. They also offer stellar support answering all your questions have a great warranty and even have their own rewards program.
Vitamix Sales FAQs
When's the best time to buy a Vitamix?
During a flash sale, you can save the most money on a Vitamix blender. Yet there's no guarantee when that will be. Yet in the past, July and November have had big Vitamix sales, so that might be the best time to check. Even if you can't wait for a great sale, you can always save $100+ on a Certified Reconditioned Vitamix anytime.
What is the best Vitamix for the price?
It really depends on your needs. My top 3 are the Pro 750, 7500 and the A3500. The perk to getting the A3500 is that they will continue to add on to their accessory line. The other blenders are cheaper, but won't be expanding their features or accessories. Check out Costco, Amazon, and Vitamix.com for deals on these appliances throughout the year.
How can I get a discount on a Vitamix?
I provide details on the best Vitamix sales throughout the year through my newsletter list (where I also share smoothie recipes too). I suggest signing up there so you'll be notified of any great deals quickly so you can snag it.
Are any blenders comparable to a Vitamix?
Check out my Blenders for Smoothies article where I break down the pros and cons of a ton so fblenders to help you see what's the same and what's different.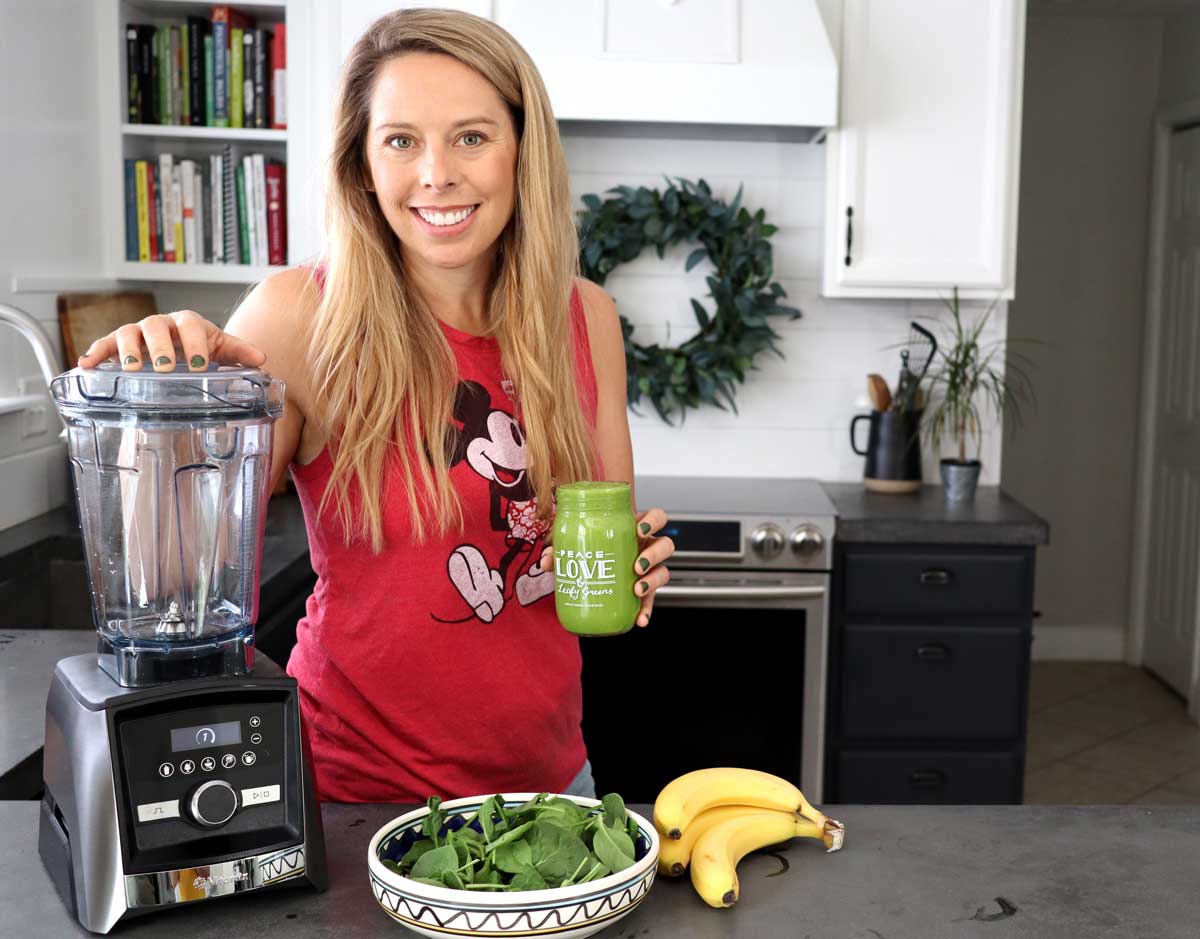 Previous Vitamix Sales in 2022
Below are the previous sales that have happened this year. There's always a chance they will repeat next year if you really wanna wait— but I don't think it's worth waiting. When it comes to your health, you're worth it! BTW: I've never met anyone who regrets buying a Vitamix.
Past Vitamix Blender Deals in US
New Product Alert! (US Only) Combine and Save $40: The Food Processor Attachment Bundle comes with the standard Food Processor Attachment, a multi-use blade, and two reversible discs PLUS three additional discs and a convenient stack-and-store case.
Past 2022 Deals for Canada
July 19 at 12pm EST- July 22: Legacy Series 7500, reg $699.95 on sale for $389.95
July 19-July 22: Vitamix ONE, reg $349.95, one sale for $249.95
June 27-July 17: $50 off All Ascent Series Blenders, including bundles, excluding A3300, and $50 off E310
June 9-June 18: Summer Sale $100 off A3500 BSF + AER Disc Entertaining bundle 
May 1-May 30: $100 off Certified Reconditioned Venturist V1200 and Free Shipping in CAN ($50 or more)
April 8-May 15: 1@10% off, 2@15% off, 3 or more @20% off Immersion Blender and Food Processor Attachment Accessories, $50 off Legacy & Ascent Blenders, $60 off Explorian Series E310
March 25-March 30: $20 Off the Reconditioned Explorian
March 3-March 31: $50 off with Purchase of Ascent Series A3300 & Compatible Containers
March 1-March 20: $130 off Certified Reconditioned Venturist V1200
$60 off Explorian E310
$75 off FoodCycler
$249.95 Reconditioned Explorian – $130 off!
$130 OFF Recon V1200 Kit: Discount ONLY shows up in-cart. This offer ends when supply is gone.
FREE Shipping: A3500 Vitamix Blender