I don't know there's anyone out there who loves sleep at much as me. I'm sharing this herbal tea for sleep recipe because I want you to fall in love with sleep like I do. Chamomile tea infused with lavender and vanilla create the perfect night time steamer sleep tea to tell your body it's time for bed.
Are you ready to have the best night of sleep?!
Table of Contents
Sleep Tea Ingredients
My chamomile tea recipe uses dairy free milk and a few light herbs with calming properties. Here's what my tea holds:
Health Benefits of Sleep
Getting enough zzzz's at night is vital for your body to heal, renew and recharge for the next day. Sleep is how your body heals and grows stronger. If you're not getting enough of it, eventually your own personal growth will suffer! Drink this soothing chamomile tea recipe before bedtime and slip into slumber with ease.
If I fall into a pattern of not getting enough sleep, it shows in all aspects of my life. I'm cranky, sluggish, irrational and eating foods that do me more harm than good. Quality sleep has become a huge part of my wellness journey.
I even created a whole bedtime routine (complete with the best Coop pillow) to make sure I am getting my beauty sleep.
Best Tea for Sleep
There are so many choices out there and many of them have additives that do more harm than good. I suggest sticking with simple, herbal teas that use ingredients such as this:
Valerian Root: Helpful when you're having a hard time sleeping due to anxiety or stress.
Poppy Plant: Contains poppy plant acts as a mild sedative to help encourage a deep sleep when you're feeling restless and achy.
Chamomile: Contains apigenin, an occurring antioxidant that may promote sleepiness and reduce insomnia.
Lavender Buds: Tea that includes lavender can improve your sleep quality and relax you too.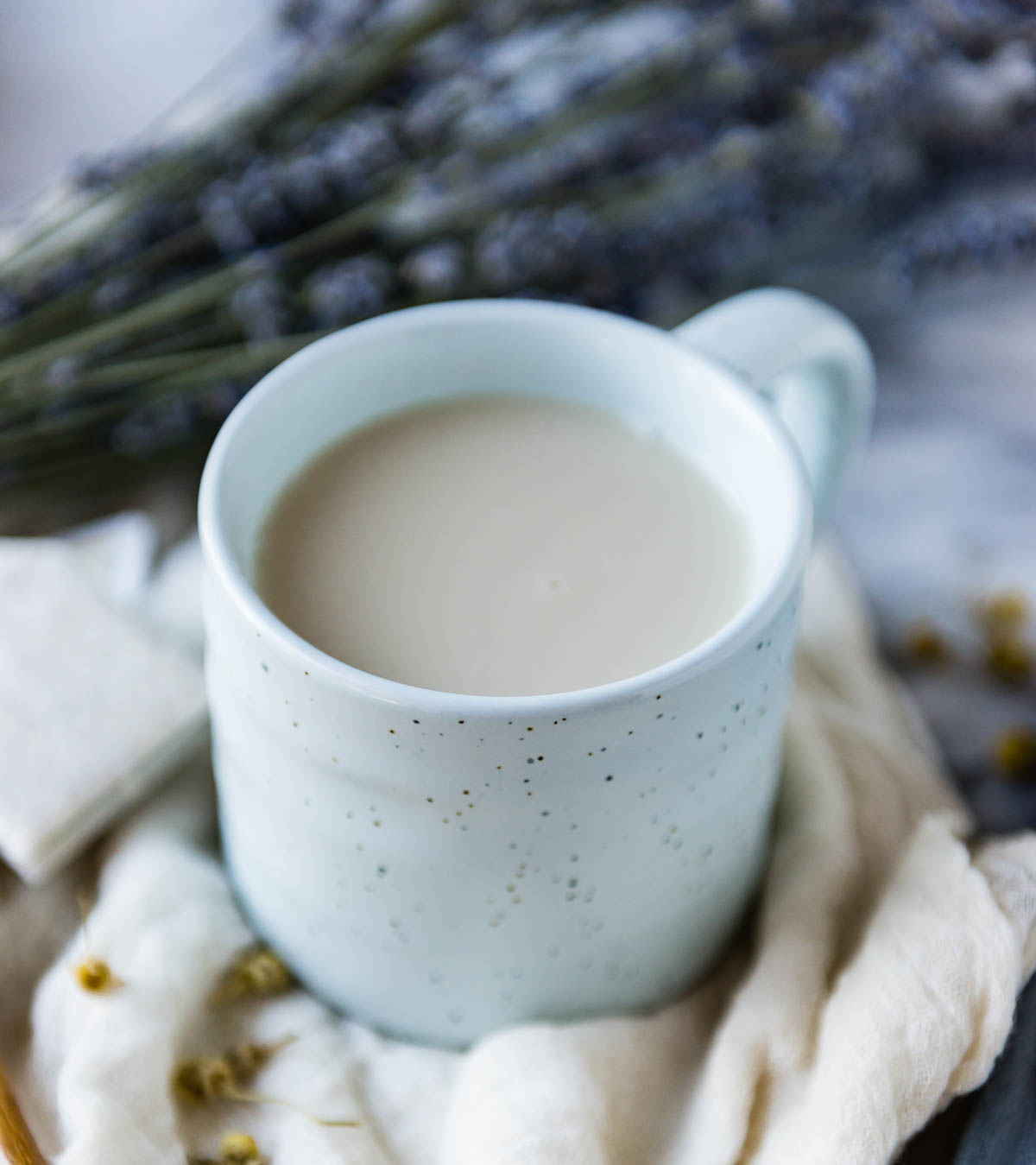 How to Make Herbal Tea for Sleep
Making your own tea is simple and a soothing process in and of itself.
Heat up milk to hot but NOT boiling. I like the 'steamer' creamy feel to this tea, yet you can heat up water if warm milk isn't your thing.
Add a chamomile tea bag + lavender buds and steep for 5-6 minutes. This will give you good flavor as well as allow the herbs time to infuse the warmed milk. If you're new to tea, try steeping for less time until you get used to the flavor.
Pour your steeped tea through a strainer into your fav mug. I've got quite the collection of mugs as I am a daily coffee drinker, yet I always choose my fav clay mug when drinking nighttime tea.
Add just a bit of honey and vanilla extract for the final touch, then sit down and enjoy.
This is the best tea for sleep and happens to be a part of my 7-Day Plant-Based Reset. If you're wanting to not just sleep better, but feel better all the time— check out my best-selling program. Over 25,000 people have gone through it and discovered the transformational power of a plant-based diet. You'll lose weight, gain energy and sleep better than you have in years.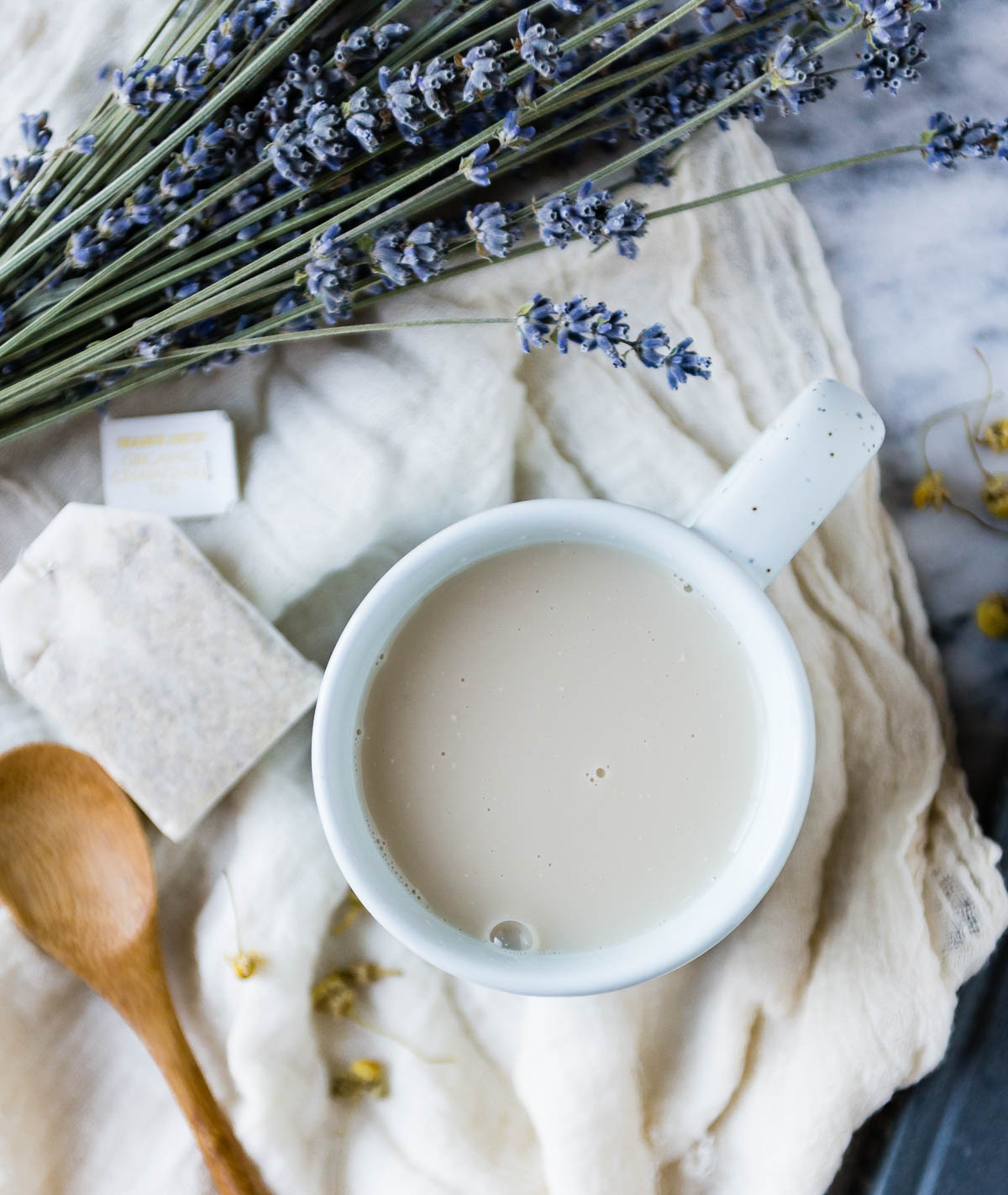 Sleep Tea FAQs
Which tea is good for sleep?
Look for caffeine-free herbal teas like chamomile, valerian, lavender and more. These use natural ingredients that are calming vs caffeinated teas that will wake you up.
Do sleep teas actually work?
While sleep tea is not the ultimate cure for insomnia, an herbal sleep tea uses real herbs that help calm your mind and body to prepare for sleep. You can also choose foods that will gear you up for a good nights' sleep as well as establish consistent sleeping patterns so your body knows each night when it's time to go to bed.
How do you make herbal tea for sleep?
Easy! Pick your fav plant milk and heat it up on the stove. You want it hot but NOT boiling. Add in the herbal tea bag (I like to use chamomile) and lavender buds and steep. Strain then transfer the liquid to a mug. Add in your sweetener of choice for a bit more flavor. Enjoy!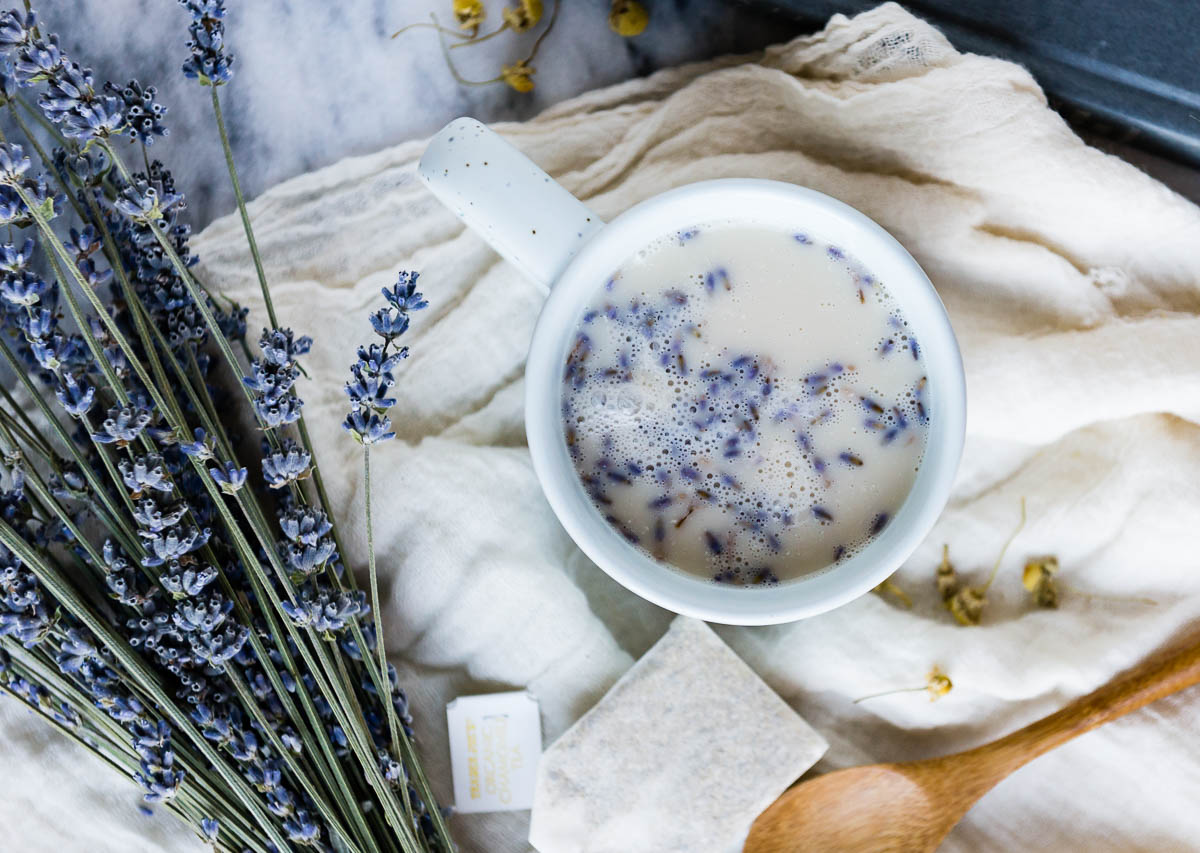 More Recipes to Help You Sleep
I want to set my body up for sleep the best way I can, and a soothing drink with the right ingredients can help me do just that. Try one of these delicious beverages to put you in the mood for sleep.
Once you've made this lovely tea recipe, leave a rating + review to let me know how you liked it. I'd love to help you on your better sleep journey.
Place the almond milk into a small saucepan and heat until very hot but not boiling.

Add the chamomile tea and lavender buds, if using and allow to steep 5-6 minutes.

Remove tea bag and strain out lavender buds, if needed. 


Pour into the teacup or mug. Sweeten with honey, if using and stir in vanilla extract.

Drink immediately. 
To create more of a frothy latte, pour all contents into a blender and blend before serving.
If culinary lavender tea buds are hard to find, use a chamomile lavender tea bag.
Swap honey with maple syrup to make this recipe vegan.
Use the plant milk of your choice.
Calories: 62kcal, Carbohydrates: 7g, Protein: 1g, Fat: 3g, Polyunsaturated Fat: 2g, Monounsaturated Fat: 2g, Sodium: 325mg, Potassium: 7mg, Fiber: 1g, Sugar: 6g, Vitamin C: 0.04mg, Calcium: 301mg, Iron: 0.03mg