Just like the striking juxtaposition of walking through a small, historic storefront in downtown Anchorage into a three-level, Japanese izakaya–styled restaurant and whisky bar, Whisky & Ramen is a study in contrasts. In our May/June 2023 issue, we head to Anchorage, Alaska, where James Beard–nominated restaurateur, president of Locally Grown Restaurants, and Alaska native Laile Fairbairn offers a tour of her must-visit drinking destinations. Sitting squarely atop the list is Whisky & Ramen, which opened last September and which Fairbairn describes with Oz-like wonder: "You're not in Anchorage anymore."
Rehabbed History
Husband-and-wife co-owners Jon McNeil and Nicole Cusack purchased a historic building that occupied a slot on the main drag in downtown Anchorage for more than a century. "We bought the building from the original family of owners, the father being the first mayor of Anchorage, dating back to the 1920s," says Cusack. "Their family ran a store out of it for decades." Preserving the original, board-formed concrete shell of the 6,000-square-foot building, the couple spent years on a meticulous build-out that includes a bright and lofty dining room, open kitchen with bar seating, and a cozy, subterranean whisky bar. "The idea was to create a space that conveyed the feeling of a traditional whisky bar, an approachable, old-timer Alaskan lounge, and an izakaya all at the same time," says Cusack.
The design concept relied heavily on locally sourced and repurposed historic materials, bespoke interiors, and vintage finds, but the end result is strikingly cohesive. Alaskan birch planks bring a light, airy quality to the main dining room, with the central focus on a tree that Cusack and McNeil cut down and preserved in the Japanese method of shou sugi ban, in which the wood is charred and sealed with oil. Meanwhile, repurposed bricks from a 1919 firehouse in Portland, Oregon, create a moody entrance to the whisky bar. "The Whisky Bar area of the restaurant is subterranean and an area guests kind of discover through the brick doorway," says Cusack. Within the bar are more personal touches. The custom-designed wallpaper by Alaska artist Tasha Jeffries features Alaskan topography crisscrossed by little float planes. "[They are] my dad's float planes that we grew up flying in the Alaska bush," says Cusack.
Japanese Meets Alaskan
Cusack's lifelong love for ramen (or "obsession," according to her) eventually infected McNeil as well, but the options in Anchorage were limited. "We just wanted to eat good ramen, and we felt this irrational compulsion to feed it to the people of Anchorage," she says.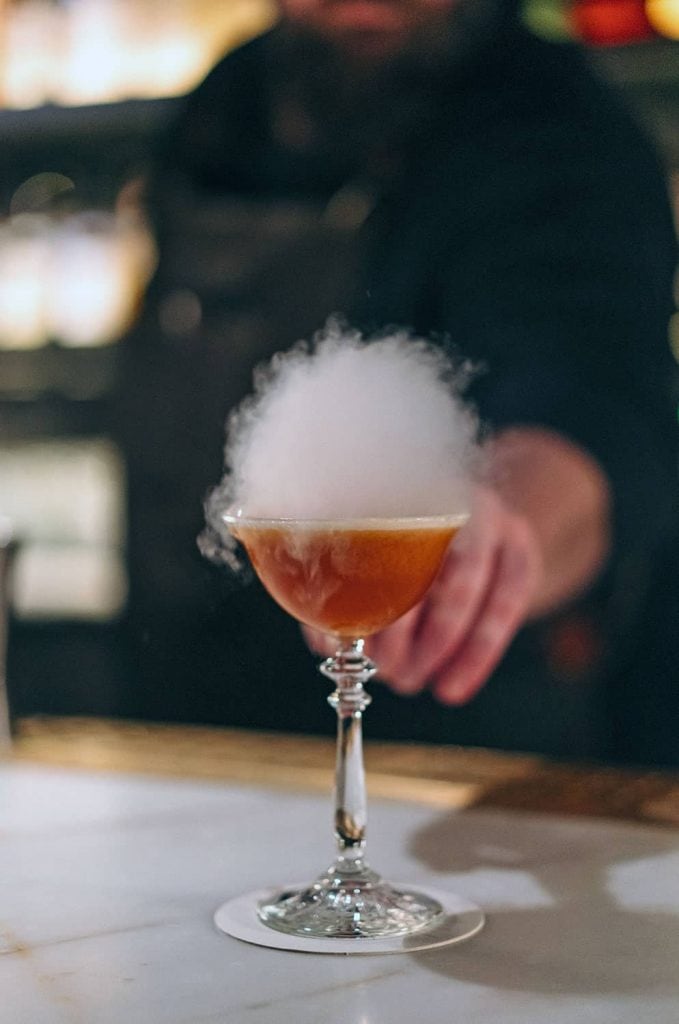 Cusack moved to Japan to study under multiple ramen chefs. The restaurant had a noodle machine shipped over and now makes their noodles in-house daily, under the helm of Chef Michael Dodge. The rest of the izakaya-style menu gets creative with offerings like steam buns filled with whisky-miso crisped pulled pork.
And while the drinks menu most certainly complements the fare, the selection easily stands on its own, anchored by a solid whisky selection. "Our collection concept is to be as expansive as we can with Japanese whisky, feature all whisky produced in Alaska, and be extremely curated with all of our other expressions," Cusack explains. The list currently hovers around 250 expressions.
Created by bar director and lead bartender Cory Leicester, the cocktail program aims for a well-honed selection of creative originals that pull in Japanese ingredients or techniques married with local ingredients (like wild blueberries). The result is cocktails like the Flowers of Edo (sesame-washed rye, honey-ginger syrup, orange bitters, smoked ume oolong tea) and the Stroll Down Takeshita (tequila, sakura-infused Calpico, sakura-sencha tea, elderflower).
"While we take the execution seriously, the cocktails are generally playful, with fun presentations for the bartenders and the guests," says Cusack. It's an attitude reflected in the space as a whole. "There's no room for pretension in Alaska, and we're having none of it," Cusack notes. "People can roll in from the bush or a day of fishing wearing muddy XtraTufs or come in dressed up for a special occasion. We're pouring PBR and Yamazaki 25."