Summers were made for eating popsicles, yet the push-pops from my childhood might not be the healthiest option, as tasty as they were. I've created several super simple healthy popsicle recipes with 100% real ingredients that have real flavor, natural sweeteners and can be made with a variety of popsicle molds.
Show up for summer the right way with a variety of freezer snacks ready for the beach, pool or summer projects. You and the kids will love 'em!
Table of Contents
Easy Ingredients for Frozen Treats
Popsicles are loved by my whole family and they doubled as a frozen treat and an easy summer activity for my kids when they were younger. You can use almost any fruit combo in your recipe, yet here is the simple template I follow for most of my creations: 
Fruit: Great options include strawberries, peaches, mango, pineapple, watermelon, blueberries and raspberries. Melon acts as both a liquid and a fruit!
Natural Sweetener: To keep out the processed sugar, I use maple syrup, honey, agave and fruit to sweeten these pops. They're just as sweetly delicious as the popsicles of my childhood, yet made with more natural ingredients.
Thickener: If you are going for creamy instead of icy then you want to add something like avocado, coconut milk or Greek yogurt to your blend to cream it up. You can also use vegan yogurt if you want.
Liquid: These frozen delights don't need a lot of liquid, so often the fruit you use is enough. If you find it hard to blend, add in a splash of 100% real fruit juice, or be sure to include fruit with a high water content like kiwi, watermelon, grapes or citrus fruit. Feel free to also just use a bit of water or coconut water for an electrolyte boost. 
Don't feel pressure to make fancy vegan popsicles when you can just as easily use whatever you have on hand to make a delicious snack. I also like to throw in a handful of spinach or cauliflower to add in some veggies and my kids still love 'em!
Healthy Popsicle Recipes
If you're looking for some kid-friendly, parent-approved popsicles then I've got five great vegan popsicle recipes for you. These healthy pops taste just as good (if not better) than store-bought, and they've got real ingredients as well as colors too.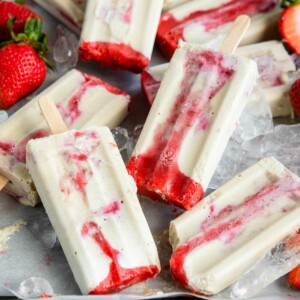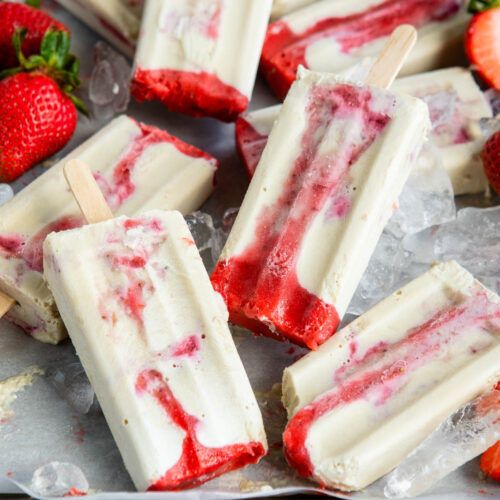 Creamy Strawberry Popsicles
These fun strawberry popsicles might just be too cute to eat! The creamy, sweet vanilla base is swirled with tart strawberry puree. The texture is soft and pudding-like, reminiscent of ice cream truck favorites of our childhoods.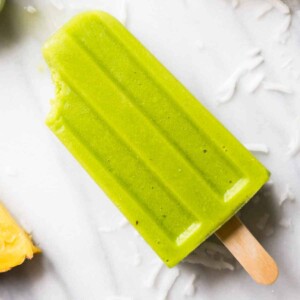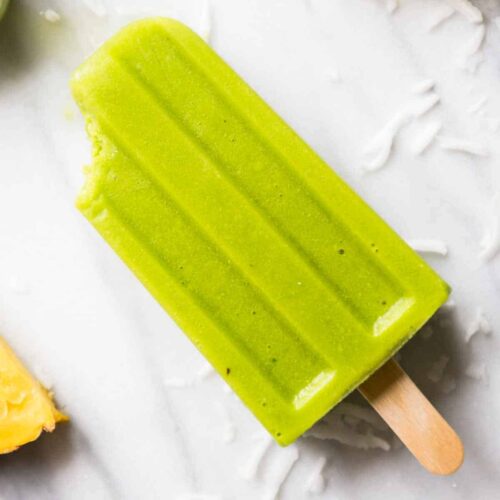 Green Smoothie Popsicle
Thanks to the nutrients found in pineapple and coconut, this pina colada popsicle recipe can hardly be categorized as a treat! Coconut is packed with vitamins, minerals, antioxidants, and fiber. And pineapple is chock full of Vitamin C.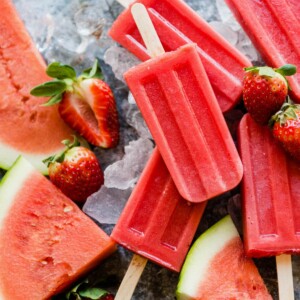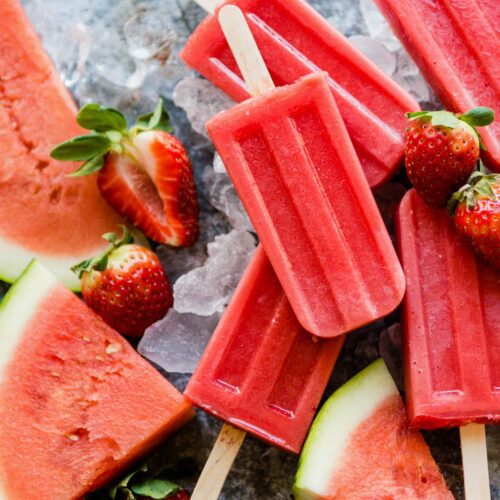 Watermelon Popsicles
Two simple ingredients is all it takes to make watermelon popsicles sweet enough to fall in love. Ask your kids to join in making this refreshing summer treat.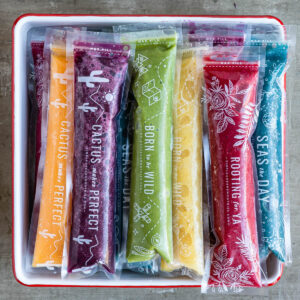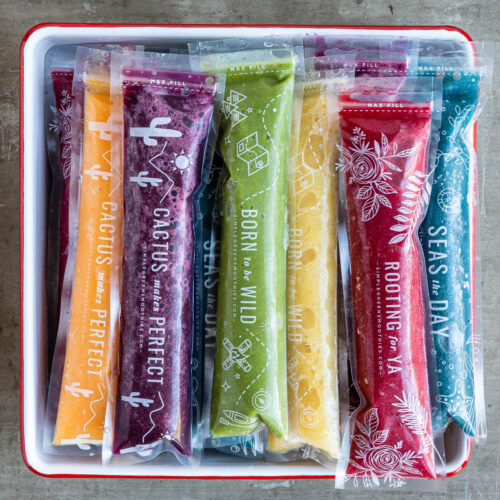 Healthy Homemade Popsicles
Making homemade popsicles can be easy, healthy and convenient. These recipes all use plant-based natural ingredients to nourish your body. Pick which colors you'd like to make from the recipe below.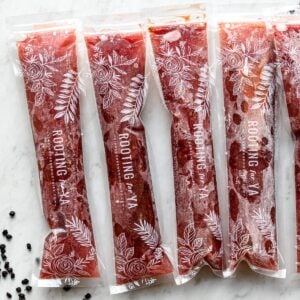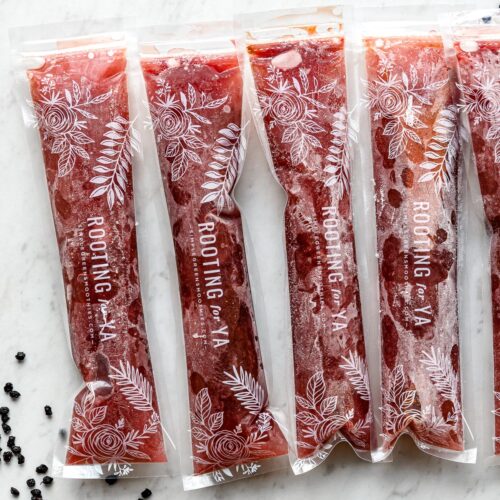 Elderberry Popsicles for Sore Throats
We've taken our natural remedies a step further by adding black elderberry syrup to a soothing, vitamin C-rich mixture to make tasty popsicles for sore throats. Make these ahead of time so they are ready to grab at the first day of a sore throat.
Homemade vs Store-Bought Pops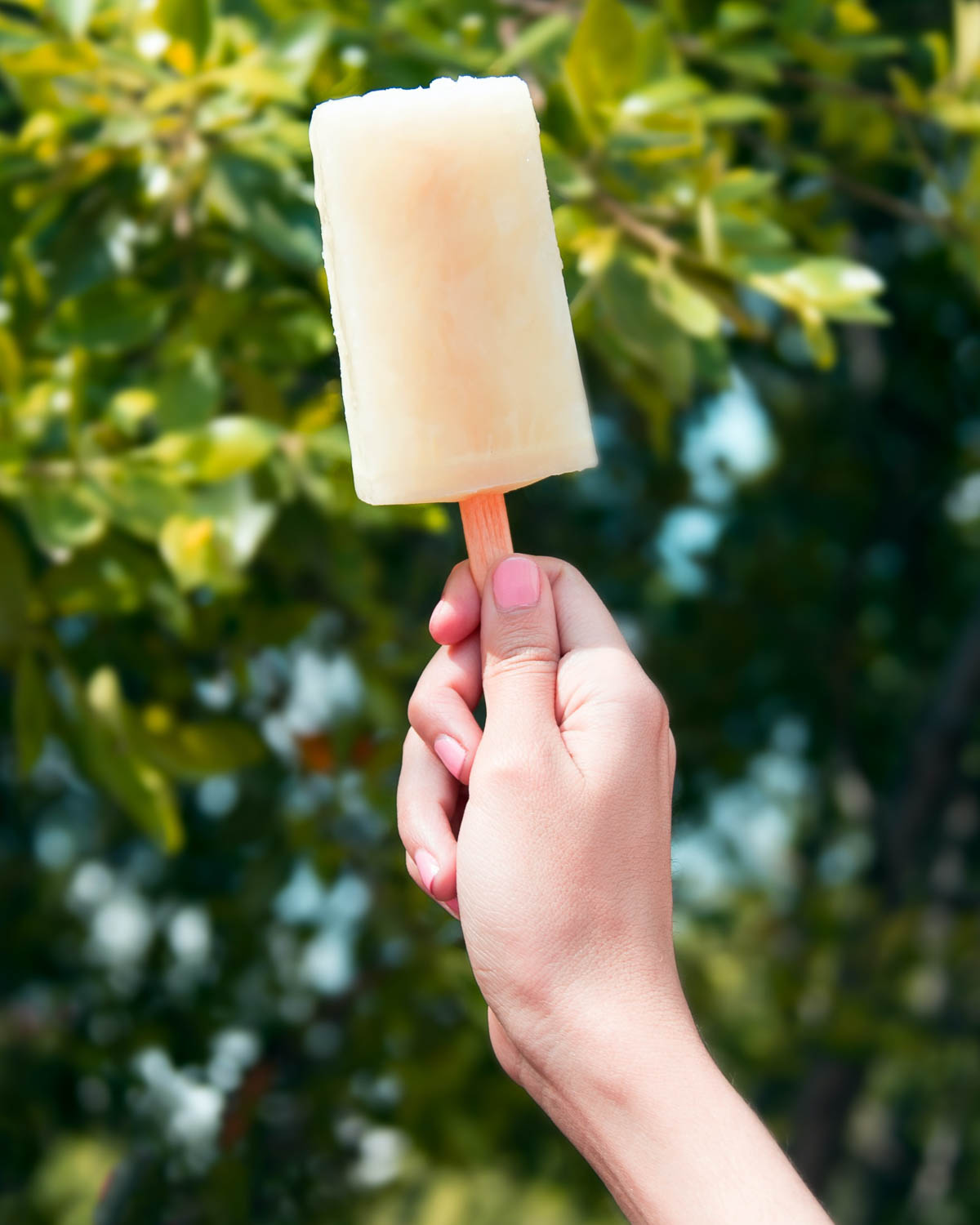 I grew up on freeze pops, so I know how good they are. Now that I read food labels, I realize they aren't benefiting my body at all. These homemade fruit popsicles use only real, pronounceable ingredients, all from plants. They're naturally and brightly colored using just food, no need for chemical food coloring here!
DIY Tips
If you aren't sure about adding spinach to your popsicles, then start small! Try a half cup first, then increase the amount each time you make these, because they'll disappear fast. Try using a high-powered blender like a Vitamix to ensure the smoothest, creamiest mixture possible.
Then make sure not to skimp on the chill time! Allow a few hours for the popsicles to firm up in the freezer before enjoying them.
Best Popsicle Molds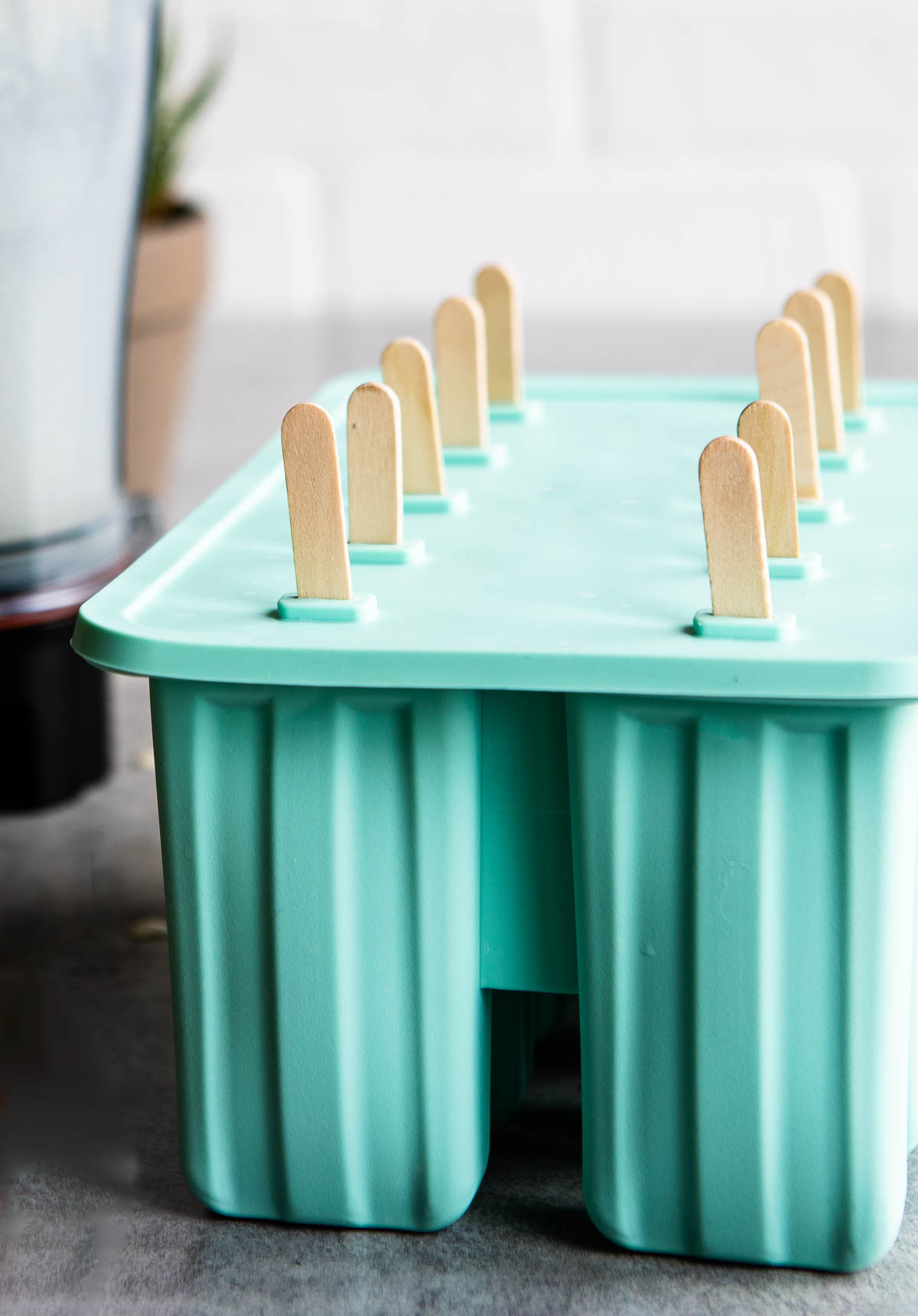 When making these fun snacks, think about your audience. Do you want full-size molds, miniature, push-pops or easy-to-store? Also, remember your freezer space! Some molds require space to stand up while others can be laid flat to freeze. Here are the ones I like best:
Choose the one that best fits your space and preferences. No matter what you choose, I can't wait to see your finished products and your freezers full of fun!
Two easy homemade mold ideas include ice cube trays or muffin tins. Depending on the thickness of your mixture, you can place sticks right into these trays, or wait until they firm up slightly (but not completely) then add the sticks.
If your molds take up a lot of freezer space, then use freezer storage bags once your popsicles are completely frozen to cut down on the space used.
FAQs
Are popsicles good for my diet?
Yes! They can be. If you choose to buy popsicles, read the labels. Actual healthy popsicles should be made with only real ingredients, no artificial dyes, colors, or 'natural flavors.'
Are there healthy ice pops?
Yes! Use real, whole-food ingredients when blending your own. When purchasing them from the store, look for ones with a simple ingredient list without weird additives. I've had success with Halo Pops and Chloe's Pops from the store.
Are popsicles bad for weight loss?
It depends on how you use them. Popsicles can be packed with healthy fat, protein and real fruit and veggies to give you a whole-food snack that is actually filling. They can be filled with food dye, artificial flavor and a whole bunch of preservatives. Opt for ones that are simple, made with whole ingredients and give you the energy boost you need.
Are popsicles high in sugar?
Since most popsicles are made from fruit, they won't be low in sugar. If you choose low-sugar fruits and then add in some healthy fats and protein to your blend, you'll get a frozen treat that has all the sweetness and is lower in sugar.
Which recipe have you excited for summer? Drop a comment and let me know!