As I get older I think about what I can do now to help my body age gracefully. Keeping my blood sugar in check is one of those things. I drink a daily apple cider vinegar drink to help keep my glucose happy and stable. There are so many apple cider vinegar uses and I can't wait to share them with you today!
Constantly searching for more natural and holistic remedies, people are turning to apple cider vinegar (ACV) as a cure-all remedy. There's a lot of controversy surrounding ACV, and whether or not it truly lives up to all the hype. We're digging deeper into this vinegar to figure out whether or not it actually benefits our plant-based lifestyle.
Table of Contents
Recipe Ingredients
This particular vinegar is made by exposing crushed apples to yeast, which turns the natural sugar in these apples into alcohol. Bacteria are then added in to turn the alcohol into an acetic acid. Acetic acid is the main active compound in any vinegar.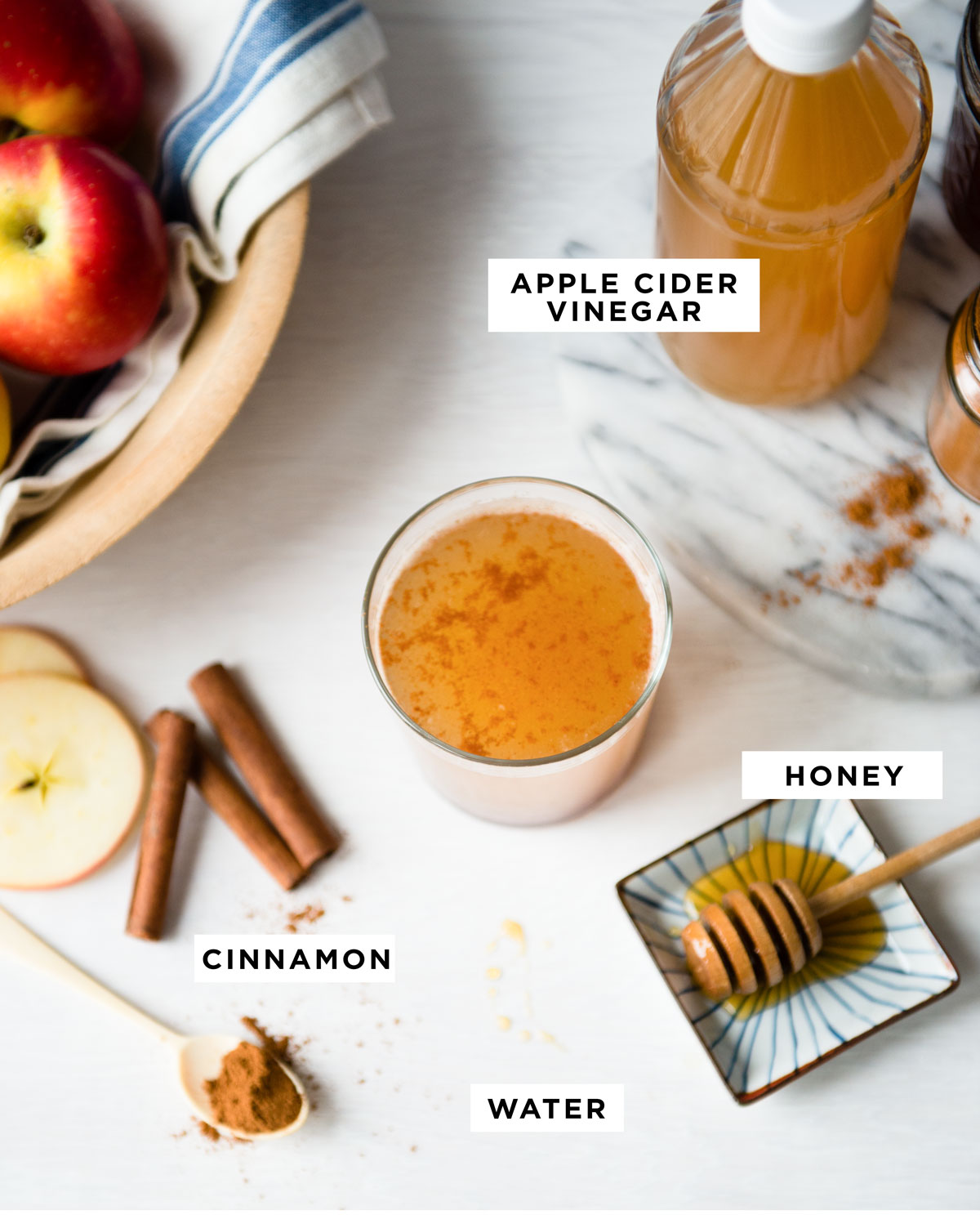 It becomes a probiotic drink that gives your body good bacteria. While you *can* drink this straight, it is still vinegar so it will be very tart and strong. Also, it can be harsh on your teeth as-is, so let's dress it up a bit and enjoy our apple cider vinegar drink while it does a whole lot of good for our body. Here's what I'm mixing up:
Honey: I use raw, local honey to give me a little extra boost, yet you can use whatever is available to you. If you want to make this drink vegan, swap it with another natural sweetener like maple syrup or omit it completely.
Ground cinnamon: Long used for its medicinal properties, cinnamon may help lower inflammation, stabilize blood sugar through lowering insulin resistance and help with heart health.
Unfiltered apple cider vinegar: ACV contains acetic acid, which helps stabilize blood sugar. When apple cider vinegar is taken before a meal can reduce a sugar spike by over 30%.
Water: Used to help dilute the ACV to a safe concentration for daily consumption.
Best Kinds of Apple Cider Vinegar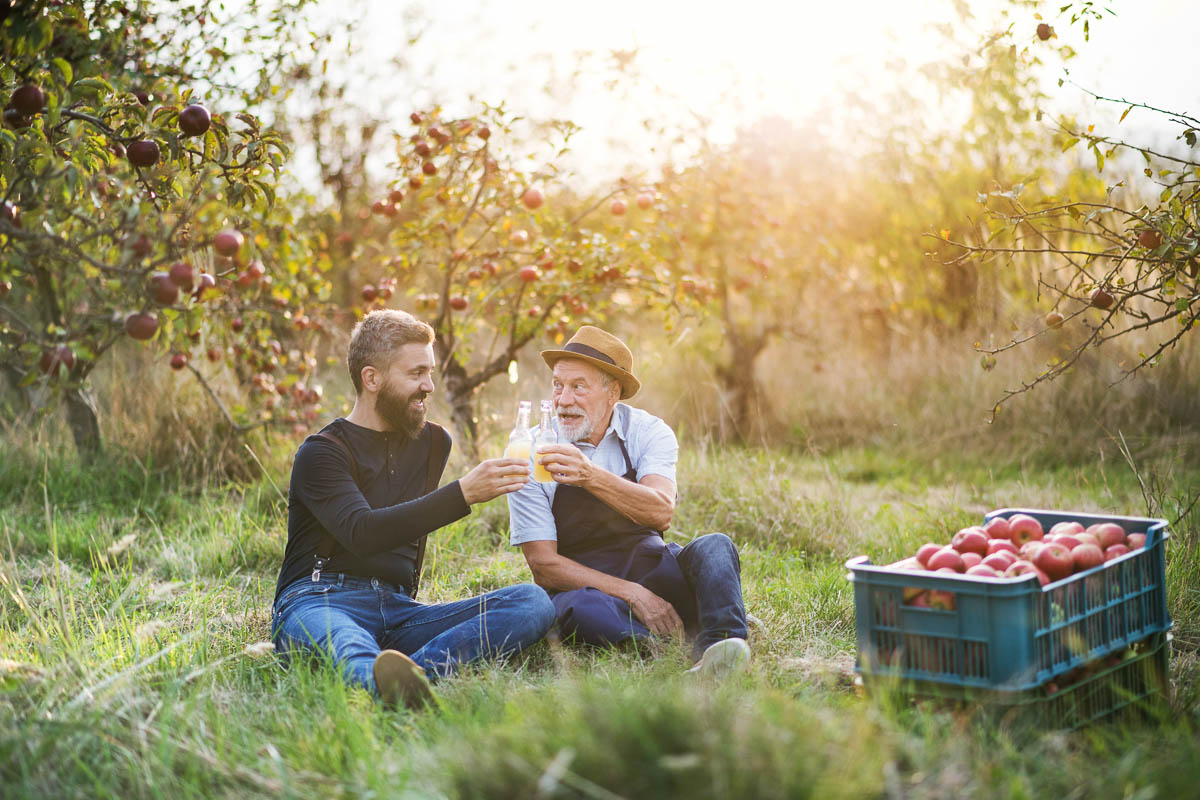 Apple cider vinegar can be purchased in two forms, filtered and unfiltered. The similarities and differences are outlined below:
Filtered Apple Cider Vinegar
Can be organic or non-organic
Typically pasteurized
No 'mother'
Clearer Appearance
Milder apple taste
Unfiltered Apple Cider Vinegar
Can be organic or non-organic (but most often organic)
Non-Pasteurized
 Includes 'mother'
Darker appearance
Stronger apple taste
Unfiltered is said to be more beneficial health-wise due to the mother, aka healthy bacteria, still in the mixture. Some people believe the 'mother' is responsible for the health benefits, while others believe the mother isn't needed for this vinegar to work as a cure.
We like the extra healthy bacteria in the unfiltered version, and our favorite brand is Braggs Unfiltered Organic Apple Cider Vinegar. This brand has the most strands of healthy bacteria, making it a better probiotic (for all its medicinal offerings).
Health Benefits of Apple Cider Vinegar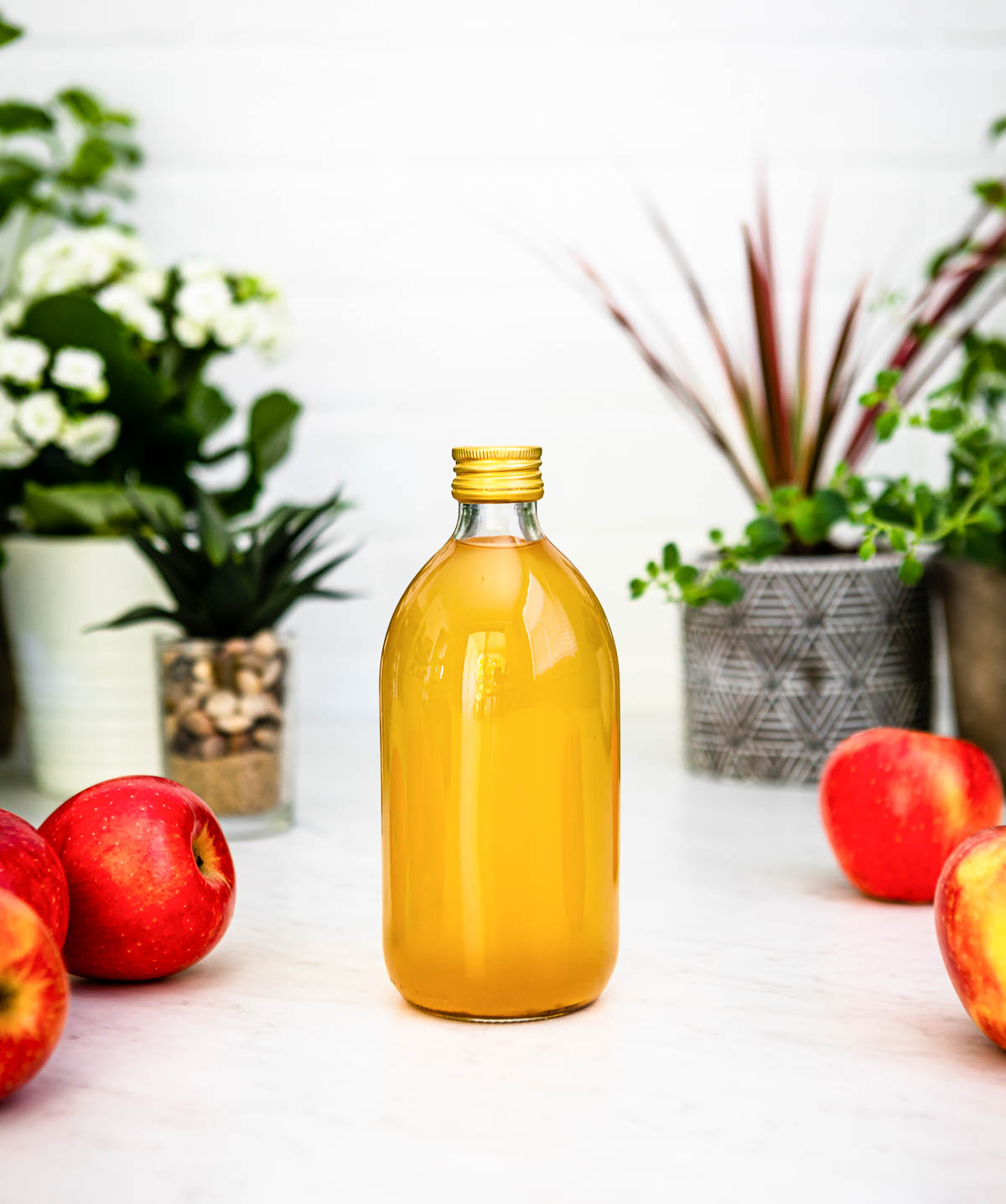 There is controversy surrounding the use of apple cider vinegar as a cure, yet several health benefits have been discovered through research and continued use:
A note of caution: While there aren't many studies on the long-term effects of daily consumption of apple cider vinegar, we believe everything should be consumed in moderation. Vinegar can cause erosion of teeth and tooth enamel, therefore, it should always be diluted with water if taken daily.
How to Make an Apple Cider Vinegar Drink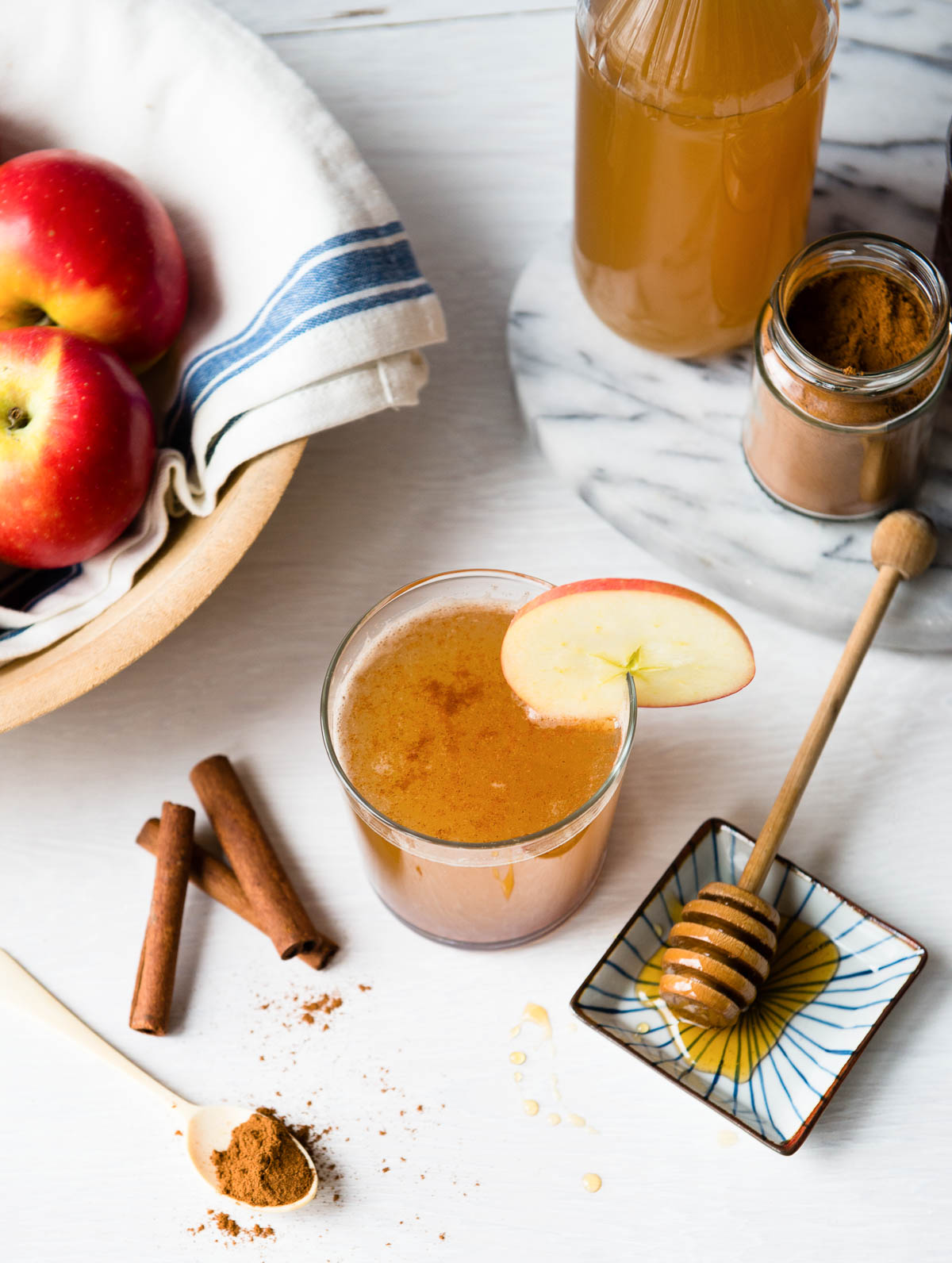 This is a super simple drink to make, which is necessary if you want it to be a daily habit. You can also make it a few different ways to fit your taste preferences, making it easier to enjoy.
In a glass, stir together honey and cinnamon.
Add apple cider vinegar and water and stir until honey is dissolved.
Enjoy!
Drink with a straw to further protect your teeth. Swap the honey with maple syrup to make this a vegan beverage. Read on for a few different ways to drink this.
Recipe Variations
If you're anything like me then you have to actually enjoy something to make it stick as a habit. I love green smoothies so drinking them on the daily is a no-brainer. I didn't love apple cider vinegar when I started, yet there are so many great apple cider vinegar uses that I knew I had to figure out a way to like it.
Here are a few variations on this recipe that make it taste delicious and way more fun:
Add sparkling water. Easily turn this into a fun mocktail by swapping regular water with sparkling.
Warm it up. Drink apple cider vinegar tonic in warm water to turn it into a cozy drink and easy on digestion first thing in the morning.
Try it unsweetened. If you are looking for something to help stabilize blood sugar then drink this without the honey.
Add lemon juice or fresh ginger root to give you even more benefits and change the flavor.
FAQs
Can I drink apple cider vinegar every day?
Yes! I drink apple cider vinegar diluted with water every day. I also drink it through a straw to further protect my tooth enamel.
How do you drink apple cider vinegar for weight loss?
While apple cider vinegar is not a cure-all for weight loss, it can help stabilize blood sugar which leads to fewer cravings and less hunger, which can contribute to weight loss.
Is it better to drink apple cider vinegar in the morning or at night?
Personally, I like to drink it in the morning to help wake up my metabolism and start my day off right. Yet, I also enjoy drinking it before dinner, especially if that dinner is going to be carb-heavy. It will help lower my blood sugar spike from that meal.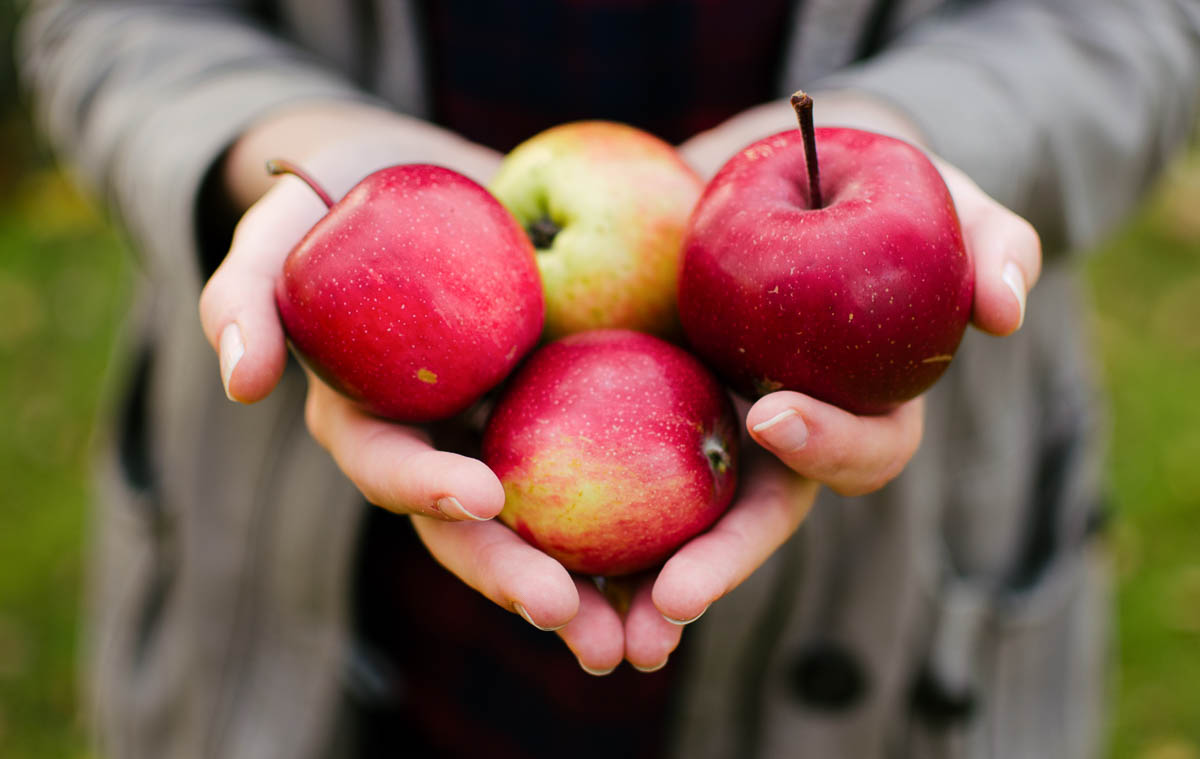 More Ways to Use Apple Cider Vinegar
Apple cider vinegar on its own packs a pretty powerful flavor punch. Adding it to a recipe gives a more complex flavor profile and takes that salad to the next level. Read on for some of our favorite apple cider vinegar uses from dressing salads to flu remedies:
Citrus Tahini Dressing: Provides the acid in salad dressings like this one. Swap regular vinegar with apple cider vinegar in any dressing you want.
Green Smoothie: Add one tablespoon of apple cider vinegar for a probiotic boost.
Plant-based 'buttermilk': Add two tablespoons of apple cider vinegar to one cup of almond milk. Stir, then let sit for 3-5 minutes to sour the almond milk. Then add as directed to any recipe that calls for buttermilk (it works great in my vegan waffles!)
Metabolism Boosting Tea: Another version of this recipe that adds lemon juice and ginger.
Homemade Fire Cider: Natural remedy to combat cold, flu and congestion.
I can't wait for you to give this detox tonic a try! Don't forget to rate it once you try it. Feel free to drop any questions you have in the comments as well, I love answering them!
In a glass, stir together the honey and ground cinnamon.

Add the apple cider vinegar and stir until honey is dissolved. Add the water and stir well.

Drink immediately or refrigerate until ready to drink.
You can also drink this at room temperature or even warmed a bit to make it like a hot apple cider.
If you are using this beverage to help lower blood sugar before a meal then omit the honey. 
This can also be served with sparkling water and turned into a fun mocktail!
Swap honey with maple syrup to make this recipe vegan.
Calories: 26kcal, Carbohydrates: 6g, Protein: 1g, Fat: 1g, Sodium: 13mg, Potassium: 17mg, Fiber: 1g, Sugar: 6g, Vitamin A: 1IU, Vitamin C: 1mg, Calcium: 14mg, Iron: 1mg