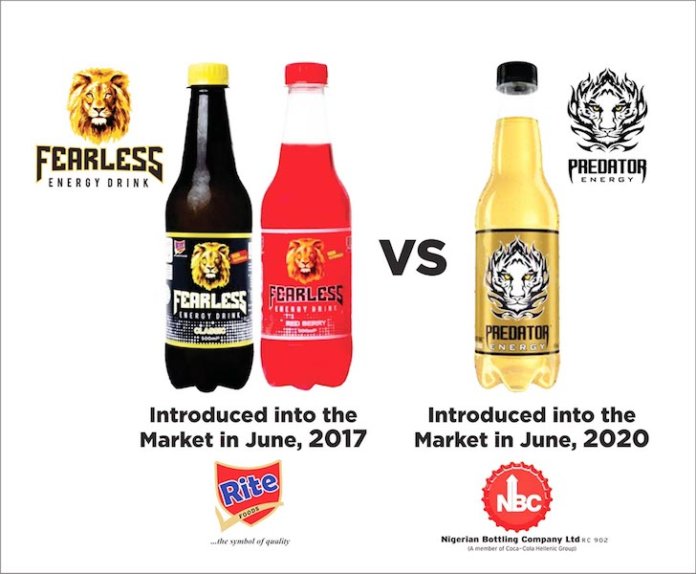 Consumer
Festus Akanbi examines the unfolding issue of trademark infringement between Rite Foods Limited and the Nigerian Bottling Company (NBC), producers of Fearless energy drinks and Predators, respectively, saying the legal battle will end up confusing consumers of the two products, unless an amicable settlement is urgently worked out
Globally, business owners make use of distinctive features such as trademarks for product identification, in order to carve a niche for their organisations and to effectively compete in the market they operate.
Its usage, which dates back to pre-historic times, has evolved over time to this contemporary era, and it is a type of intellectual property consisting of a word, phrase, symbol, or design that distinguishes a product or service of an organisation from those of competitors.
Over time, the use of marks for product identification led to its registration and protection, with the earliest trademark legislation known as the Bakers' Marking Law, enacted by the British Parliament in 1266.
Subsequently, this development spread to other parts of the globe so we had the United States Federal Trademark Act of 1870, the French Manufacture and Goods Mark Act in 1857, followed by Merchandise Mark Acts of 1862 in England, as well as the Japanese law in 1884.
In Africa, the situation is the same, with businesses making use of trademarks in markets where they operate, as also evident in Nigeria, the largest economy on the continent, with over 200 million people, making it the most populous and lucrative investment destination on the continent.
Indeed, the strive for market share has made it necessary for organisations to be identified with one trademark or the other, and it is governed by the Trademarks, Patents and Designs Registry, Commercial Law Department of the Federal Ministry of Industry, Trade and Investment, under the Trade Marks Act, Cap T 13, Laws of the Federation of Nigeria 2004 and the Trademark Regulations 1990.
However, the importance of trademark and product style protection against passing-off by others trying to deceive the consumers to believe their product share same quality with the original cannot be overemphasised.
Some cases of trademark infringements in the country include that of Alban Pharmacy Ltd. V Sterling Products International Incorporated, in 1968, over the mark Casorina, which the appellant (Sterling Products) said infringes on its ' Castoria' which was registered on November 26, 1958, in Class 3 for medicinal products.
After the trial court has passed judgement of non-similarity in favour of the defendant, the Supreme Court overruled that the issue of resemblance was not the right approach, that what the learned judge had in mind was a case of passing-off which must be distinguished from infringement.
It therefore ruled that if the…